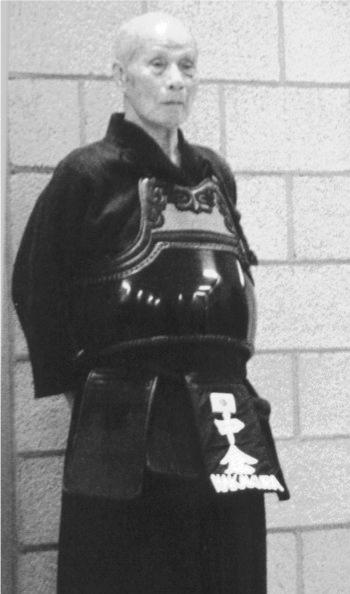 The relation between Nakakura sensei and the Belgian Kendo Federation (BKR) has a long history…This famous teacher was one of the members of a group of
Japanese high level Kendo teachers whom visited Europe, especially for Kendo, for the first time in September 1969.
In 1977, he came back again to attend the European Kendo Championships held in Brussels together with other famous teachers as Ishihara Tadayoshi sensei, Oka Kenjiro sensei and Matsunaga Masami sensei.
Several years later (1992), with the help of Hirakawa Nobuo sensei from Meiji University, he will join Brussels every year in December to supervise an important European Kendo and Iaido seminar and team competition called "Nakakura Cup". This competition, since its start in 1992, continued growing year after year and became one of the leading Kendo tournaments in Europe.
Since the beginning a female individual championship was added to this team tournament with the support of Hirakawa sensei. Many other famous Japanese teachers joined the annual delegation such as Inoue sensei, Fukuda sensei, Yamazaki sensei, Oda sensei, Sueno sensei, Furuichi sensei, Itoh sensei, Ohtsubo sensei and many others.


Tribute to Nakakura sensei

T
he personal antecedents of Kiyoshi Nakakura sensei
1910-September-24




Born in Kagoshima Prefecture




1929-March

Graduated from the Daidokan Budo School at Kagoshima City




1930-May

Entranced into the Yushinnkan of Hakudo Nakayama sen

sei

1931-April

Employed for the Imperial Guards

1934-September

Kendo master for Tokyo Shouka University's Kendo Club

1946-July

Assistant police inspector of the Imperial Guards

1947-June

Police inspector of the Metropolitan Police Board

1953-May

Technical officer of the Prefecture Police of Kagoshima

1960-April

Chairman of the board of trustees for the Kagoshima Prefecture Kendo Federation
Trustee for the All Japan Kendo Federation

1963-April

Director for the All Japan Kendo Federation

1964-April

Trustee for the All Japan Kendo Federation

1966-August

Professor for the Police School for the Kanto district

1968-June

Councilor for the Tokyo Kendo Federation

1971-April

Kendo master for Hitotsubashi University's Kendo Club

1975-April

Kendo master for the Higashimurayama City Kendo Federation

1976-July

Professor emeritus for the Police School for the Kanto district

1977-June

Councilor for the All Japan Kendo Federation
Kendo master for Chuô University's Kendo Club

1979-July

Director for the International Kendo Federation

1980-April

Kendo master for the Defense Medical Academy's Kendo Club

1990-June

Adviser for the All Japan Kendo Federation

1991-June

Adviser for the Tokyo Kendo Federation

1995-April

Lecture for the Police Academy
Achievements of Kiyoshi Nakakura sensei
1931-June

Championship Tournament All Metropolitan Police Board vs. All Imperial Guards

Winner

1933-November

Meiji Jingû

Tournament

Winner

1954-May

Kyoto Tournament

Winner

1954-October

All Japan Kendo Championships

3rd place

1954-November

All Japan East-West Kendo Tournament

Winner

1955-December

All Japan East-West Kendo Tournament

Winner

1956-April

All Japan East-West Kendo Tournament

Winner

1957-April

All Japan East-West Kendo Tournament

Winner

1963-March

All Japan East-West Kendo Tournament

Winner

1966-July

All Japan East-West Kendo Tournament

Winner

1967-September

All Japan East-West Kendo Tournament

Winner

1957-October

All Kyushû Kendo Championships for Each Dan

Winner

1962-October

National Athletic Meet for Kendo

Winner
Receiving prizes
| | |
| --- | --- |
| 1954 | Prize from the chairman of the Kagoshima Prefecture Athletic Association |
| 1957 | Cultural Prize South Japan |
| 1958 | West Japan Sports Prize |
| 1959 | Prize from the head officer of the Prefecture Police of Kagoshima |
| 1962 | Prize from the Governor of Kagoshima Prefecture |
| 1963 | South Japan Sorts Prize |
| 1974 | Commendation from the Police of the Kanto district |
| 1976 | Commendation from Police |
| 1984 | Commendation from Brazil |
| 1990 | Honorary Citizen from Dallas City in U.S.A. |
| 1993 | Appreciating from the New York's Mayor |
Kendo
Grade
1939

Kendo Kyoshi

1959

Kendo 8th dan

1962

Kendo Hanshi

1978

Kendo 9th dan

1978

Iaido Hanshi

1983

Iaido 9th dan