This year, the 20th ABKF Iaido Championships took place on May 21th in Affligem. It was a wonderful day with great shiai.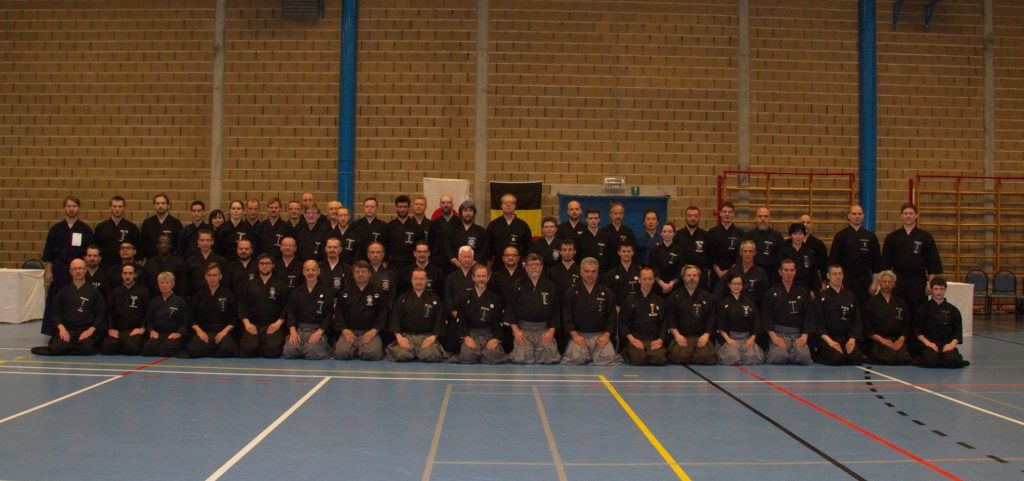 Congratulations to all the participants and medal winners. See you all next year for the 21st edition of the Belgian Iaido Championships 🙂
Results
MUDAN
1.VANDERSTRAETEN ALAIN (RAITO)
2.LOPEZ CEDRIC (YAEGAKI-KAI)
3.BASU PRAMIT (KENHACHI)
3.VERHEYDEN BENJAMIN (YAEGAKI-KAI)
FS.CORDIER LAETITIA (BUTOKUKAN)
SHODAN
1.MAES NICOLAS (YAEGAKI-KAI)
2.PEYNSAERT YOSHI (KIG)
3.MOTIEJUNAS AURELIUS (BUTOKUKAN)
3.REYNDERS MERLIJN (SHINBUKAN)
FS.VAN LAETHEM JOS (RAITO)
NIDAN
1.HEUNGENS DAAN (KIG)
2.VERMEULEN KAREN (KIG)
3.PIRAR FLORIAN (SAKURA)
3.FOULON XAVIER (KIG)
FS.DECOSTER PIETER-JAN (BUTOKUKAN)
SANDAN
1.CROES KIM (KENHACHI)
2.DE BROYER SEBASTIEN (TAIKIKAI)
3.PHAN DUC TRUNG (YAEGAKI-KAI)
3.FLAMENT CHANTAL (AGEHACHO)
FS.PHAN DUC TRUNG (YAEGAKI)
YONDAN
1.VERVAEK VALENTIN (KIG)
2.YANO CHIEKO (KIG)
3.PAUWELYN NICOLAS (TENSHOKAI)
3.RENESSON FABRICE (KCC)
FS.LAMMENS ARNAUD (TAIKIKAI)
GODAN
1.VANDENBUSSCHE JONATHAN (AGEHACHO)
2.VLAD LIVIU (AGEHACHO)
3.DE BURGHGRAEVE ALAIN (AGEHACHO)
3.VAES NICOLAS (MUSHINKAN)
FS.HONTOIR FRéDéRIC (SHOSHINKAN)
Thank you to all the helpers and the organizers, the ABKF, the Iaido TC BKR.
See you all next year.
ABKF Iaido TC