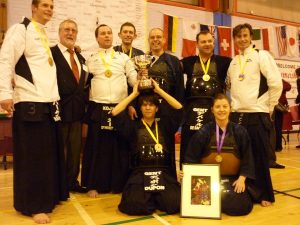 This weekend, 3 teams from Belgium participated at the Mumeishi 3's tournament in London and got fine results.
It came to one scored point, or the final would have been a Belgian one, even a Ghent one.
Kojika (Haeke W – D'Hondt P – Vandendaele R) got the first place and Gold medals and the Cup
Kendo Gent (De Backer J – Van Ackere E – Dupon V) got third place and Bronze medals
The third (mixed) team (Pollet A Isshin Dotai – Borremans B Nobara – Gallant J Kendo Gent) unfortunately was eliminated by the silver medallists early on.
In the Women's tournament, Annick Pollet got the Fighting Spirit.
During the tournament, Chris Maes was invited to be shinpan-shunin of one of the shiai-jo.