The 22nd European Iaido Championships 2015 was this year organized in Berlin, Germany. The ambiance during this event was great and everybody was very happy to meet all Iaido friends from all over EKF countries. After 1 day seminar, the Belgian team did fight hard Saturday in the individual taikai and won 3 medals with Kim Croes 2nd dan Silver, Simonini Michael 6th dan Bronze, Kanto Yuki 5th dan Fighting Spirit.
The Belgian delegation was composed of: Trembloy Jean (manager), Vlad Liviu (Coach), Vermeulen Karen, Heungens Daan , Croes Kim, Damoiseau David, Van Gilsem Grégory, Vervack Valentin, De Block Marjan, Kanto Yuki, Simonini Michael, Bruwier Philippe. Demuynck Patrik, Defraye Luc and Carlier Freddy as referee.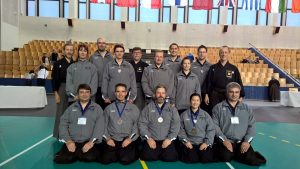 Belgian Team Delegation
On sunday the Belgian team composed of Kanto Yuki, Vervack Valentin, Kim Croes and Daan Heungens did a great job by winning the Bronze medal.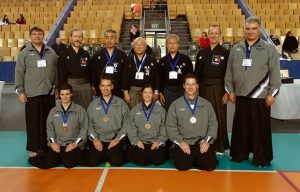 Belgian Team and the Japanese Delegation composed of Yamazaki sensei, Kusama sensei and Azuma sensei.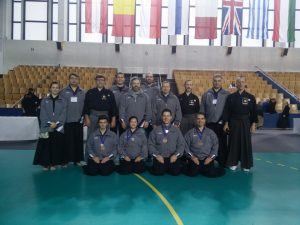 Full championships results (EKF PDF) here
Gradings results (EKF PDF) here