The 20th European Iaido Championships was this year organized in Meze, France. The ambiance during this event was great and everybody was very happy to meet all Iaido friends from all over EKF countries. After 2 days of seminar, the Belgian team achieved a tremendous job in the individual taikai by winning not less than 8 medals with Bruwier Philippe 6th dan Silver, Simonini Michael 5th dan Gold, Kanto Yuki 5th dan Bronze, Vandenbussche Jonathan 4th dan Gold, Vervack Valentin 2nd dan Gold, Vijverman Yvan 2nd dan Bronze, Cool Steven 1st dan Gold, Croes Kim 1st dan Bronze.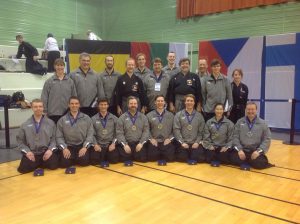 And on sunday winning the Silver medal in Team taikai with a team composed of De Block Marjan, Cool Steven, Croes Kim, Defraeye Luc.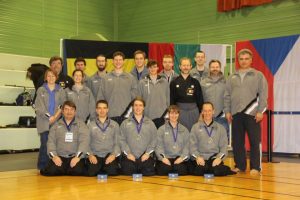 Sunday finished with gradings where many new shodan (Incl. Croes Kim), nidan (Incl. Cool Steven) and sandan (Incl. Vervack Valentin) members passed! But only three new yondan and only one new rokudan (Simonini Michael) passed.
All EIC 2013 taikai results can be found here with official EKF comments and pictures on Facebook