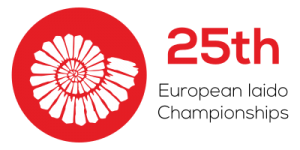 Belgian Iaido team report – EIC 218 in Zawiercie, Poland.
WOW !!! That is the first reaction after this 25 th European Iaido Championship last weekend . Although I already attended in earlier championships as referee, this year I was really 'on the competitors side' as Belgian Team manager to see (& love) it all.
This year's Belgian referees were Patrik Demuynck and Luc Defraeye.
After a long travel, from Brussels via Frankfurt to Katowice airport, we arrived on Thursday evening at Zawiercie. Luckily, we had made bus reservation, so no worries to find transportation. The hotel was great and we started our stay with a lot of fun in the hotel's spa and swimming pool. Everyone experienced this Thursday pool evening in his own way …
Friday was a full day seminar. ZKR Iai demonstration supervised by Mitani sensei.
Explanations were provided by Kusama sensei and kata were performed by Nakamura sensei. In the afternoon, more than 300 participants were divided in three halls to practice the points highlighted by the sensei during the morning session.
Saturday was the first day of the championship, individual taikai in seven categories, from mudan to rokudan. Not easy to follow on four shiaijo. The coach, Liviu, went from one place to another noting every score in every category …
In mudan category, Basu Pramit(Kenhachi) won the 3d place, bronze medal. In nidan and sandan, the level was higher than ever and Belgium members were stopped before the finals, but in yondan category Valentin Vervack(Kendo Iaido Gent) won the 1st place, gold medal.
And in the highest category, rokudan, Yuki Kanto(Brussels Yaegaki-kai) won 3d place,bronze medal, and Michael Simonini(Brussels Yaegaki-kai)
won 2 nd place, silver medal. Four medals won on day one !!!
Sunday was team taikai and the Belgian team members were Karen Vermeulen (Kendo Iaido Gent), Kim Croes (Kenhachi), Valentin Vervack (Kendo Iaido Gent) and Daan Heungens (Kendo Iaido Gent). Leaded by a strong coach, Liviu Vlad, who strategically positioned the members on the 3 places. They got out as firs of their pool against Greece and France, won against Italy, fought victoriously in half final against the Netherlands to win finally against Finland. Fantastic performance from a great team !!
So four gold medals on the second day !!!
And last but not least, four Belgian members presented and passed their gradings: Kim Croes(Kenhachi) became yondan, Karen Vermeulen(Kendo Iaido Gent) became sandan, Pramit Basu(Kenhachi) and Soumaya Boujraf(Butokukan) became shodan.
Congratulations to all !!!
Thank you all, Belgian members, for great performances, good friendship, and a fantastic weekend.
It made me very proud to be part of this team.
Your Iaido Team manager, Freddy Carlier.