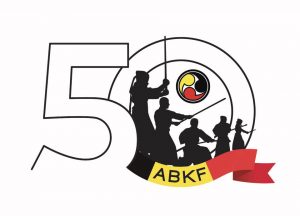 Reserve the date: Saturday, April 6, 2019 at 3 PM – 8 PM
Location: Palais des Académies
Rue Ducale 1, 1000 Brussels, Belgium
Celebration of 50 years Kendo, Iaido, Jodo, Tan & Jukendo in Belgium for ABKF members & Friends.
We propose two conferences to our guests:
'The Japanese sword during the ancient, medieval and modern Japan"
by Sergio BOFFA, Ph D, Curator in Chief at Nivelles Museum
"Does the practice of the Japanese sword makes us becoming Samurai?"
by Baudouin DECHARNEUX, Ph D, Professor at ULB
Followed by a graduation ceremony to outstanding people who have served our Federation during the past 50 years and "Shogo menjo" to several 6th and 7th dan members.
An informal reception with all attendees, invited Japanese teachers and local representatives will close the event.
Participation fees
Free for VIP. ABKF-members: 5,00€, Friends (non-ABKF): 25.00€
Keiko for Kendo, Iaido &/or Jodo during the celebration period
Kendo:
Thu 04/04: Auderghem (ARA) 19.00 to 21.00
Fri 05/04: Auderghem (ADEPS) 11.00 to 12.00
Sat 06/04: Auderghem (ADEPS) 09.00 to 11.00
Sun 07/04: Ixelles (VUB) 10.00 to 12.00
Iaido:
Sun 07/04: Anderlecht (Erasme) 13.00 to 17.00
Tue 09/04: BYK Uccle 20.30 to 22.30
Jodo:
Sat 06/04: Auderghem (ADEPS) 09.00 to 11.00
All with the presence of invited teachers from Japan and high-level members of the federation and free of charge…
All information will also be posted on the Facebook event page