Great results for the Belgian Team at the 21st European Iaido Championships 2014 in Helsinki !!!
Two days of seminar with 19 countries represented, everybody in the team very happy to meet all European Iaido friends and receive the teaching of 3 great sensei: Sakono sensei, Kusama sensei and Aoki sensei all Iaido 8th dan Hanshi.
Great competition results with 7 medals: 3x Gold, 1x Silver, 2x Bronze and 1x Fighting Spirit.
BELGIUM DELEGATION EIC HELSINKI 2014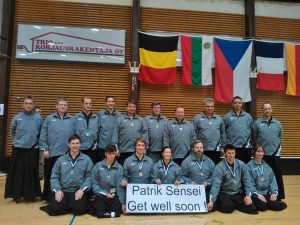 Check out results by clicking on the "Read more" link.
Mudan – FS Daan Heungens
Nidan – Gold Steven Cool
Sandan – Bronze Valentin Vervack
Yondan – Gold Jonathan Vandenbussche
Yondan – Bronze Marjan De Block
Godan – Gold Yuki Kanto
Rokudan – Silver Michael Simonini
Examination success for Daan in shodan.
What a fine Team, Thank you to all participants and let's continue to train hard. Gambatte !!!
Congratulations
Coaches
Liviu Vlad & Jean Trembloy
Referee
Freddy Carlier
Check all the results here http://eic2014.fi/results