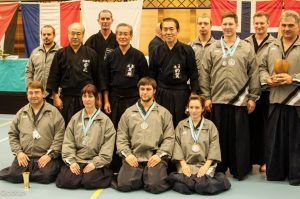 At the 14th EJC in Falkenberg, Sweden, the Belgian Team (Marjan De Block, Karen Vermeulen & Valentin Vervack) has won the Team Event!
They got the gold medals and title of European Champion Jodo 2015.
In addition, Marjan De Block got the Silver Medal (Vice-European Champion) in the Yondan division while Karen Vermeulen and Valentin Vervack also got the Bronze medal in the Sandan division!
Congratulations to all of them!