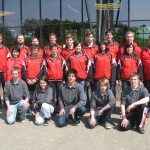 European Kendo Championships 2011
Our National Kendo Team at the European Kendo Championships in Gdynia (Poland).
Delegation:
Daniel Delepière – leader
Marc Namèche – manager
Serge Hendrickx & Chieko Yano – coach
Jean Claude Wolfs & Chris Maes – official EKF selected referees
Xavier Roubedou, Sara Van Laecken, Aaron Vande Mergel, Makoto Grosfils & Dries Vande Mergel – junior team members
Rachel Buysse, Arsenia Corcoba, Isha Van Alsenoy, Lisa Van Laecken & Maaike Steyaert – ladies team
Benoit Rose, Celest Vinck, Sean Van Laecken, Geert Van Dort, Peter D'Hont, Carrol Tange & Wesley Haeke – men team 
First day of the event, Junior team & individuals & Ladies team competitions.
Our Junior team came out of its pool as first country by winning from Russia & Czech Republic but lost at the 1/4 finals from Spain at the end of an extra match (ippon shobu). In the individual tournament, the situation was a little more difficult but all members did well. The result was finally a "Fighting Spirit" award for our "National" Sara.
Ladies team had to meet Hungary & Czech Republic. A draw against Hungary whom won against the Czech and a loss of our members against the Czech made the story of the Ladies team come to an end at this first day of the 24th EKC.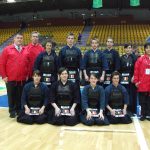 Saturday, May 7th, Men team matches' day… Belgian team became first of his pool by winning from Latvia & Russia. In the league matches, won from Macedonia but at the end lost in 1/4 final from Switzerland. European champion this year is Hungary who beat Italy. At the end of the day, another "fighting spirit" for our team by Wesley Haeke.
Sunday, last day of the Championships… Ladies & Men individuals…
All Belgian participants did very well (more details later) but news of fthe day is… another "Fighting Spirit" award for the delegation. This time, Rachel Buysse got the price for the quality of her matches…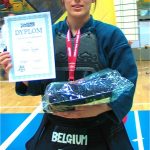 After the closing ceremony, a quick run to another gym for the Dan examinations… besides the "regular" 1st to 5th dan, we have 6 new 6th dan and 2 new 7th dan in Europe.
At the moment, we're writing these words, the sayonara party just started…
All complete results at the official website.