As always, December was a busy month… We had the 21st edition of the ABKF Winter Seminar for Kendo, Iaido & Jodo. All groups had the opportunity to practice under the guidance of Japanese top experts. This year, around 300 persons from 12 different countries came to Brussels to share their knowledge, experience and make new friends.
Jodo practitionners had a very "basic" seminar with Nishiumi sensei, Kyoshi 8th dan, who stressed the importance of kihon and zanshin in daily practice.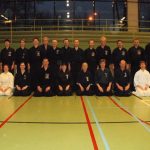 Iaido practitionners got "serious" info in how to get more from iaido than executing physical movements by Kobayashi, Hanshi 8th dan & Uehara sensei, Kyoshi 7th dan.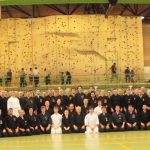 Kendo practitionners had a seminar which made it possible to feel the importance of "seme" and "timing". Also Nihon Kendo Kata demonstration was shown by Tahara and Shinotsuka sensei, Hanshi 8th dan. And the traditional kendo competitions were held on the last day of the event for Ladies individual, Team of 3 players & the "open" individuals…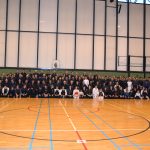 Results of the competitions:
Ladies:
| | |
| --- | --- |
| 1 | STOLLARZ (FRA) |
| 2 | DE BACKER (FRA) |
| 3 | GREIF (SLO) |
| 3 | TEXIER (FRA) |
Team:
| | | |
| --- | --- | --- |
| 1 | CNK 1 (FRA) |   |
| 2 | Kenseikan (BEL) |   |
| 3 | BELGIUM 2 (BEL) |   |
| 3 | CNK 3 (FRA) |   |
Open:
| | |
| --- | --- |
| 1 | Haeke (Belgium) |
| 2 | Nakabayashi (France) |
| 3 | Takeuchi (France) |
| 3 | Montessinos (France) |
Fighting Spirit prices were handed out to:
Pollet A. (Belgium) – Dutescu M. (Romania) – Van Laecken S. (Belgium) – Bensaid A. (Belgium
Special ANA-ticket to Japan went this year to:
Wesley Haeke (Belgium)